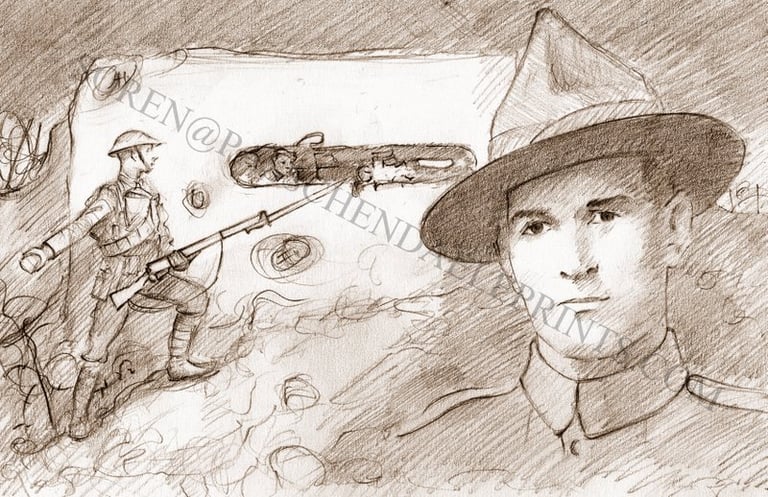 Samuel Frickleton VC NEW ZEALAND
On August 2, 1917, Samuel Frickleton's Victoria Cross was gazetted.
The citation reads:
"Although slightly wounded, Lance Corporal Frickleton dashed forward at the head of his section, pushed into our barrage, and personally destroyed with bombs an enemy machine-gun and its crew which were causing heavy casualties.
"He then attacked the second gun, killing the whole of the crew of 12. By the destruction of these two guns he undoubtedly saved his own and other units from very severe casualties, and his magnificent courage and gallantry ensured the capture of the objective.
"During the consolidation of the position he received a severe second wound. He set, throughout, a great example of heroism."
Size A4...
Size A4

Hand signed by the Artist!

Free dedication service!

Printed with high end exhibition quality inks

€5 postage to WORLDWIDE
Every additional picture €1
Direct from a Ypres based British artist whose Gt Grandfather was a 15 year old Lancashire Fusilier at the battle of The Somme in 1916, he was badly maimed at the battle of Passchendaele in Oct 1917, his eldest brother was killed in 20th February 1915 at 'The Bluff' Ypres.
I have previously exhibited at The Royal Academy, London